Scripting Tutorial - Zen Cart

Zen Cart truly is the art of e-commerce; a free, user-friendly, open source shopping cart system. The software is being developed by group of like-minded shop owners, programmers, designers, and consultants that think e-commerce could be and should be done differently. Some "solutions" seem to be complicated programming exercises instead of responding to users' needs, Zen Cart puts the merchant's and shopper's requirements first. Similarly, other programs are nearly impossible to install and use without an IT degree, Zen Cart can be installed and set-up by anyone with the most basic computer skills. Others are so expensive ... not Zen Cart, it's FREE!

Demo: http://zencart.samplesite.org/

This tutorial will guide you through the Zen Cart setup and installation proceswordpress-1.5-strayhorn.zips on our servers. It is assumed that your account has support for PHP and MySQL database and that you have already created your database.

Part A - Downloading the Script

1. The script can be downloaded from here.

2. The file that you will download is saved in .zip format; this is a compressed bundle containing the files in the Zen Cart distribution. Unzip this archive in a temporary directory on your computer using a decompression software.

Part B - Uploading Files to Server

1. Start your FTP software and after connecting to your web server, create a new sub folder on your server named /catalog in the /var/www/html/ folder for your Zen Cart files. Upload the entire contents of Zen Cart to your server in the /catalog folder.

Part C - Software Configuration

1. Before you begin Part C, please ensure that you have created your MySQL database on your web server via your Site Administration Panel.

2. Access the Zen Cart installation script with your web browser: http://www.yourdomain.com/catalog/zc_install/

(Replace yourdomain.com with your domain name.)

3. On the Zen Cart Setup - Welcome screen, click Continue to proceed on to the next step.

4. Agree to the Terms and Conditions and click Continue.

5. The following System Inspection Results and File and Folder Permissions check should be as follows. If there are any results that differ from this tutorial, please contact Technical Support and advise of the differences. Click Install to continue installation.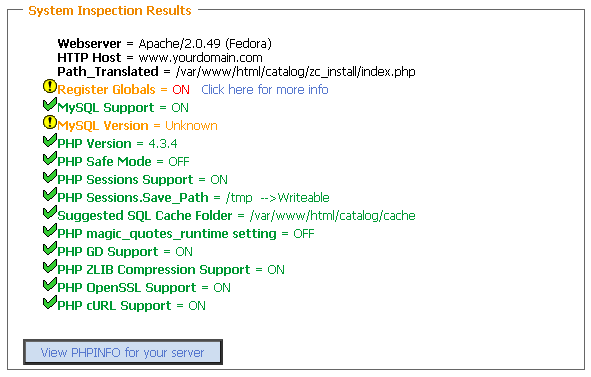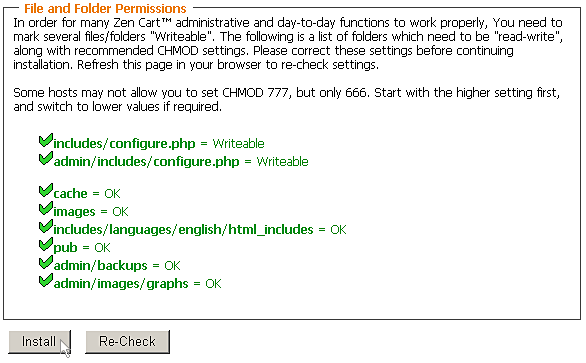 6. Please check the Server Settings and ensure they are as follows. Please note unless you have already purchased and installed a SSL Certificate on your VIP PowerNet account, the Enable SSL options should be set to NO.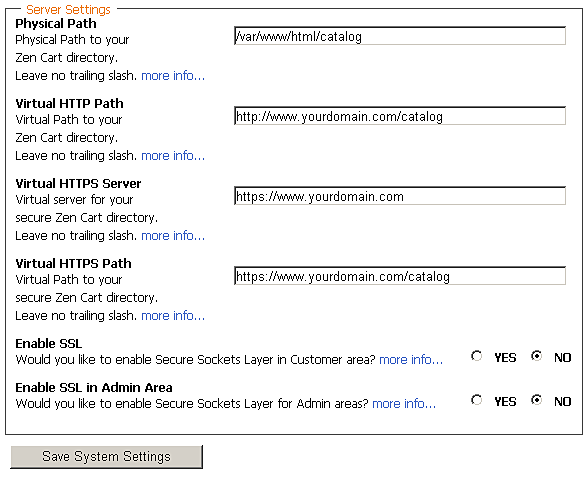 7. For the purpose of this tutorial, we will not be installing phpBB. Please select NO to the phpBB installation and click Save phpBB Settings to continue.

8. Under the Database Information, enter your database info as follows:

Database Table-Prefix: zen_
Database Host: 127.0.0.1
Database Username: Your memberID
Database Password: Your database password
Database Name: Your database name, e.g. yourdomain_com_-_db
Persistent Connection: NO
SQL Cache Method: None
Session/SQL Cache Directory: /var/www/html/catalog/cache

Click Save Database Settings to continue.

9. Please complete this section with your store information. After you have completed your store information, click Save Store Settings to continue.

10. Under the Administrator Information, enter your Administrator Username (to manage the store), Password and Email Address. Click Save Admin Settings to continue.

Part D - Security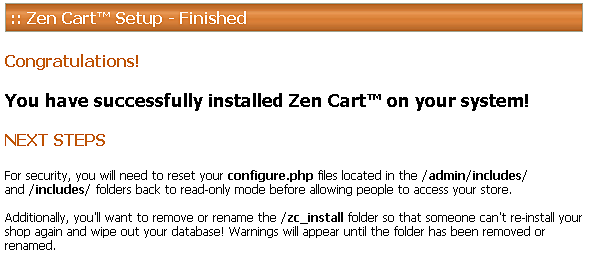 1. Using your FTP software, you will need to change the file permissions on the configure.php files located in /var/www/html/catalog/admin/includes/ and /var/www/html/catalog/includes/ to Read-Only (CHMOD 444).

2. In /var/www/html/catalog/ please delete the zc_install folder and the content within. This will prevent the re-installation of your shopping cart.

Your installation of Zen Cart is complete. Please click the corresponding links to start exploring and customizing your shopping cart through the admin panel.

For further information on the use of Zen Cart please visit http://www.zen-cart.com/modules/ipb/.